We've all experienced the organization nightmare of having too much stuff for our space. A way to combat this issue is to rent a
storage unit
. If you have valuable objects, sentimental keepsakes, or items that you barely use but can't fully get rid of, then a storage unit is your best bet to remove the clutter from your home.
But how do you rent a unit? How do you choose which unit is best for your situation, and, most importantly, which company should you rent from?
These are only a few of the questions you'll come across while you're looking for a storage unit. Let's start with the basics.


What are the Best Ways to Choose a Storage Unit?
1. Decide which size you'll need. Compile a list of the items you're planning to store. If most of your list includes small items that can be easily boxed and neatly stacked, then you'll likely aim for a smaller unit.

However, if you're planning to store valuable furniture, then you'll want to rent a more spacious unit that can hold your belongings without damaging them.
Also, you'll want enough room to move around and retrieve specific items. If your storage unit is too full, then it will be difficult to remove your belongings. In the past, I've made this mistake, and, I can tell you, it wasn't a fun experience.
If you do not know exact sizes, then read this article: How to Hand Pick the Perfect Storage Unit Size.



Source: RugarSelfStorage

So, the first step is to figure out what you'll be placing in the unit, then you can start searching the market for the best option.

2. Pick a company that is clean and secure. If you have valuable items, make sure the storage company you choose has adequate security, such as video surveillance or security guards. Also, ensure that the facilities are clean and have active pest control.
The last thing you'll want is to have holes in your furniture or boxes from pests. If you're uncertain if the company offers this feature, don't be afraid to ask.


3. Choose a location that's adequate for your needs. Your choice of location should depend on several things:
How often will you visit the unit? If your answer is? A lot', then you should consider choosing a company in your neighborhood, or close to it.
Alternatively, if you only plan to visit the unit occasionally, the location shouldn't limit your options as much.
How safe is the area? If your answer is 'not very', it may be wise to choose a storage unit that's located in a safer neighborhood.


Whether you decide to choose a location in your neighborhood or outside of it, try to make sure convenience doesn't outweigh potential features. For instance, a unit that's only a few minutes away but is overly expensive, unsafe, or lacks adequate features is not a great option.
However, a unit that's perhaps a bit way further but includes superior benefits and prices is probably a wiser choice.


4. Compare prices and services. Similar to renting a house or apartment, you'll have to choose a unit that meets your budget.
Also, make sure the price you're paying is worth the services. Some of the services that you should look out for are:

Office hours: Find a company that has convenient office hours, so you can access your items and receive assistance when you need them.
Discounts: Some storage companies offer discounts. When you visit the unit, remember to ask if they have any current promotions.


Ask lots of questions: The whole purpose of a showing is to understand exactly what you'll be renting. If you're unsure about a certain feature or about a specification in the contract, then don't hesitate to ask. It's better to have a full and clear picture before you sign anything.
Check reviews: This is an important step in any committed purchase. Check online and see what other people are saying about the company and the experiences they've had.
To make your research a bit easier, I've compiled a list of the best storage units.


Which Companies are the Best?
1. Extra Space: This storage company offers many great features, and they have thousands of locations across the US. Here are some of their best features: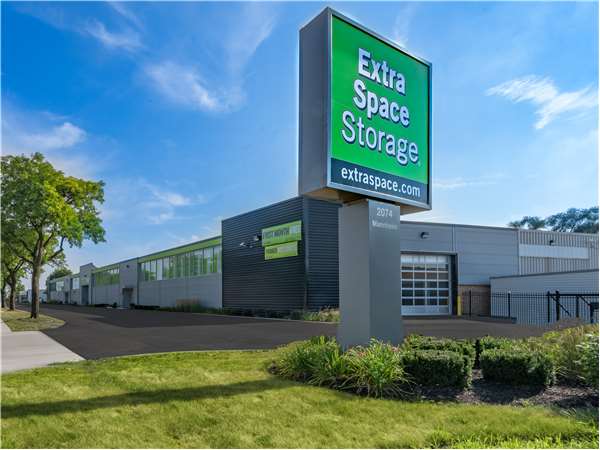 Climate-controlled units with added security, including a gated entrance and available alarms for individual units
Insurance options
On-site managers
Discounted moving truck rentals
Over 1,650 storage locations
Clean, well-lit facilities
BBB accredited with an A+ rating
Has a 4.8/5 star rating
If you're looking for a secure, convenient, and highly-rated option, then Extra Space is a safe bet.


2. Public Storage: Public Storage offers many of the same features as Extra Space. However, their rating is slightly lower, and they do not guarantee video surveillance across their sites. Let's look at some of their benefits:


Over 2,200 storage locations in the US, Canada, and Europe
Climate-controlled units
Vehicle storage is available
Current promotion of $1 rent for the first month
Online discounts of 15% for rentals
Has a 4.7/5 star rating
Free reservations
No long-term commitments
Cheap storage unit options
Convenient office hours that vary on location
Public Space offers convenient locations and discounts, so for those looking for these features, it's a promising option.


3. Simple Self Storage: This storage company is a bit smaller than Extra Space and Public Storage, but it offers a variety of compelling features:


Over 700 locations
Climate-controlled units
Free online booking
$2000 insurance coverage for $9 per month
RV and boat parking
On-site managers
Video surveillance and electronic gates
Online payment options
Although Simple Self Storage doesn't have as many locations as other companies, it includes a variety of features that are hard to ignore. If you're looking for a secure option with an added insurance benefit, then this company would be a great fit.


Which Storage Units are Near Me?
To figure out which of these companies are located near you, head over to their websites.
Each of the company platforms includes a convenient map that will help you find the nearest location. If these options aren't in your area, perform a quick google search for nearby companies.
While you're searching for the best option, remember to practice the strategies I listed at the beginning of the article.



What are Some Cheap Storage Units?
If budget is your main focus for choosing a storage unit, I've provided a couple cheaper options:


1. US Self Storage: US Self Storage promises guaranteed lowest prices, making them one of your most affordable options. Here are some of their features:


Climate-controlled
Drive-up storage units
Vehicle and boat storage
No credit care or deposit required
Free reservation
Numerous locations
For those looking for the most affordable option, then US Self Storage is probably your safest choice.


2. U-Haul: U-Haul self-storage isn't necessarily a cheap' option, but it does have promotions and discounts that make it more affordable. Let's see what they offer:


One month free self-storage with one-way equipment rentals
No deposits and online payment options
Climate-control
24-hour access
Clean and secure facilities
If your budget is an issue, U-Haul's promotions allow you to pay less but maintain the quality of your storage unit and facilities.
How Do I Pick a Storage Unit?
Now comes the hard part. All these options sound great, right? So, how do you pick storage unit size? Well, the first thing you'll want to do is call the company and set up a viewing.
That way, you can pick something based on the first-hand experience. Also, when you call them, ask for price options and quotes.
Let your eyes and experience make the decision for you. Don't make your choice based solely on their website, but take a look for yourself and decide if it's a good option.


Now when you found the best storage facility, you can Book Easymove Storage Moving help and get professional movers at low cost. Pick the date and time, take a photo what you need to move, your moving budget and request a moving help. Negotiate the cost and hire movers. They will show up at the mentioned date and time, and will safely move your stuff.